Contents 
Salads are the true definition of summer. 
When you think of a summer salad, the mind wanders to sweet cherry tomatoes, tangy red onion, crisp lettuce, grilled bell peppers, perhaps some creamy feta or halloumi cheese, lime dressings, fresh basil, toasted pine nuts – the possibilities are limitless. 
The beauty of salads lies in their freshness, simplicity and flavour, all of which are highly beneficial in the warm summer months when you want to be spending less time in the kitchen and more time outside. 
Salads can also be pretty affordable and ideal during the current cost of living crisis – buying staples such as oil or dried couscous in larger amounts will make many portions of cost-effective salad. 
In our financial climate, including seasonal vegetables in your salad is a must due to their availability and subsequently lowered price. 
But how can I make the perfect roasted summer vegetable salad I hear you say?
Here's how. 
Seasonal vegetables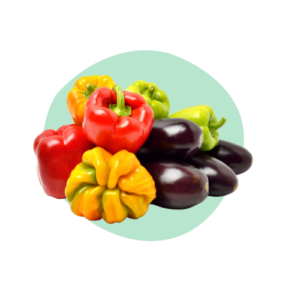 The advantages of seasonal vegetables cannot be overstated – they are abundant, they taste better, they reduce carbon emissions from food transportation, they cost less and benefit the local economy. 
In the summer period, there are a delicious range of vegetables for you to choose from, but here are four in particular which we recommend you include in your salads.
Aubergine 
Months in season: June to October
Aubergines, or eggplants if you're American, are a versatile, tender vegetable offering taste and nutrients a-plenty. 
A member of the nightshade plant family alongside bell peppers, potatoes and tomatoes, aubergines contain a range of antioxidant compounds that can protect fats which make up our brain cell membranes. 
When roasted, this purple plant produces a rich flavour and velvety texture that contrasts brilliantly against crisp green leaves such as fresh rocket or spinach.
For the best results, cover chopped aubergine chunks in salt, a drizzle of olive oil and ground cumin or fresh thyme and roast for 25-30 minutes in a hot oven. 
Courgette 
Months in season: June to September
From courgette ribbons to roasted courgette spaghetti, there are many ways of using this nutritional fruit (yes fruit). 
Eaten raw or cooked, courgettes are full of fibre, vitamin C, potassium and antioxidants such as carotenoids.
Roasting this arguably superior cousin of the cucumber will bring out its moisture and create a lovely accompaniment to toasted nuts and lime tahini dressing in a salad. 
Paprika, cayenne pepper or za'atar are wonderful spices to cover courgette cubes in before roasting them. 
Bell pepper 
Months in season:  March to October 
Whether sweet or savoury, green or yellow, the humble bell pepper or capsicum is a commonly available enhancer of salads. 
Nutritional value varies between different coloured peppers but there are estimations that consumption of this crunchy fruit (yes, peppers are a fruit too) can reduce the likelihood of developing anaemia, heart disease and memory loss. 
Cooking can reduce the nutrients present in a pepper so eating them raw in your salads is best to ensure you receive the full benefits. 
However, roasted peppers are just too tasty and incredible when cooked with cumin or dried oregano for a salad treat. 
Spring onion 
Months in season:  All year round
Jammed full of vitamin C and a fabulous addition to most savoury dishes, spring onions are arguably one of the superior members of the allium family. 
Roasting these green veggies is a good way of switching them up and generating sweet, caramelised notes through your salad. 
Chopped garlic, salt and olive or vegetable oil are all you need to make spring onions sing. 
Dressing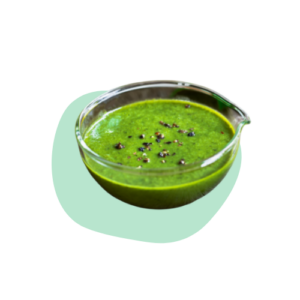 Your salads will always benefit from a sauce to bring the dish together; a dressing will change the way your ingredients taste or bring out existing flavours. 
The simple secret to making a great salad dressing is to balance oil, acidity, salt, heat and sweetness for the ultimate taste impact. 
For the best dressing to accompany your roasted summer vegetable salad, we recommend a simple basil-based sauce that will not overpower the smoky flavour of your seasonal veggies. 
To make a great basil dressing, blitz the follow ingredients until smooth and refrigerate before use: 
1 pack of fresh basil leaves 

1 garlic clove (use 2 if they are small) 

150 ml of olive oil or any oil you have to hand (use more if the mixture is still stodgy) 

Juice from ½ lime (add more to taste) 

1 small teaspoon of salt

A few twists of ground black pepper 
Carbohydrates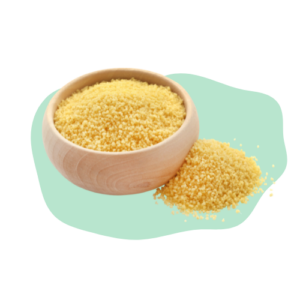 Salads may be delicious but will likely leave you hungry if you do not give them a bit of umph – adding a small portion of healthy carbohydrates into this dish can make all the difference. 
Providing your body with the glucose it needs for energy, carbohydrates are an essential part of a healthy balanced diet. 
Couscous, bulgar wheat, wholewheat croutons buckwheat, quinoa, boiled new potatoes or crushed baby potatoes are cheap and cheerful sources of carbohydrates that work great in salads.
Green leaves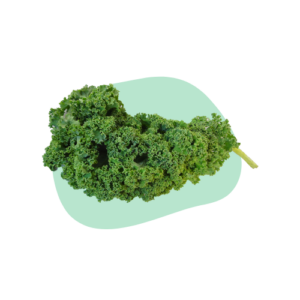 If the majority of your roasted vegetable salad is cooked, fresh greenery is a much needed addition. 
Here are some tasty nutrient-rich options to include:  
Spinach

Kale

Rocket

Lettuce 

Watercress

Chard

Water 

Broccoli and cauliflower leaves