Contents 
Curries, whether consumed at home or in a restaurant, are as warming, indulgent and comforting as food gets.
Albeit a simplified resemblance of traditional Indian food, British curries have become a staple of our cuisine.
With another National Curry Week nearly over the horizon, here is a consolidated list of top curry facts for you to savour as you tuck into a garlicky beef madras or chicken achari.
Where does the word curry come from? 
The Tamil word 'kaṟi' or 'கறி', is said to be where the word curry originates from and was a term used by the west to simplify a richly diverse cuisine. 
According to Raghavan Iver, the word curry does not exist in any of India's official languages nor its 1600 dialects.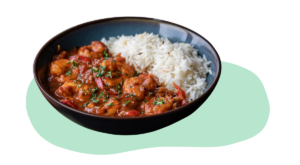 What is the most expensive curry in the world? 
According to multiple sources, the most expensive curry in the world is the Samundari Khazana, which translates to seafood treasure, an apt name for a dish which will cost you a LOT of financial treasure. 
Priced at over $4,000 per portion, the dish included oceanic luxuries like sea snails, lobsters and caviar, topped with 24 carat edible gold. 
Created by London's Bombay Brasserie, the meal was allegedly based on a simple Indian recipe, enhanced by some of the world's priciest ingredients.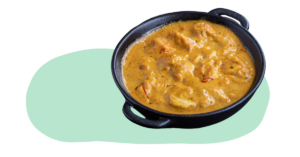 When was the first curry house opened in the UK?
In 1810, Sake Dean Mahomed opened the UK's first curry restaurant in Mayfair, London.
The restaurant was named Hindoostane Coffee House and was opened with the intention of capitalising on the nation's burgeoning love affair with spicy food. 
Sadly for Mahomed, it was not to be and the eatery closed just 2 years after opening its doors.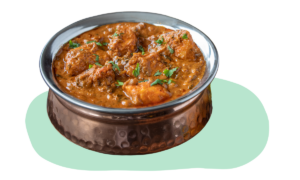 What is the UK's favourite curry? 
You would be hard pushed to find someone in the UK who doesn't love curry.
It is regarded by many sources to have long been the nation's favourite dish, knocking opposition like fish and chips or roast dinner out of its victory path.
And whilst prawn balti, lamb bhindi gosht and aloo baingan were named the top three restaurant curries in Time Out's 2022 rating of the UK's best curries, chicken tikka masala is still commonly considered the UK's favourite curry. 
But emerging from the cooking pot is another contender, a milder, more coconutty curry which has been reported to be this year's favourite. 
You guessed it – chicken korma has, according to food delivery service, FoodHub, knocked tikka masala off its podium.
How long this reign will last remains to be seen.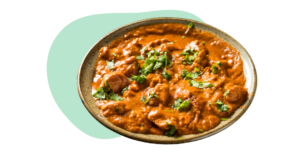 What is the world's hottest curry? 
The question of the world's most tongue-sizzling, throat-flaming curry is a 'hotly' debated topic. 
A quick Google search will tell you that the hottest curry in the world is phaal curry, a British-Asian curry which originated in Birmingham and includes the likes of scotch bonnets or ghost peppers. 
A big competitor for phaal curry though is any made with the Carolina Reaper pepper which has a record Scoville heat scale measurement of 1,641,183.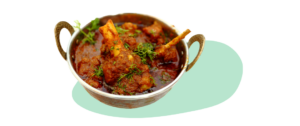 What is the world's largest curry? 
If you had to guess, where in the world would you think that the largest ever curry had been concocted? 
America? India? The UK? 
Wrong – it was actually Singapore where, in 2015, members of the Indian Chefs and Culinary Association cooked up a whopping 15.34 tonne curry.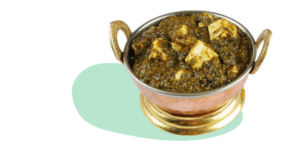 What is the most commonly used spice in curries? 
Whilst curries are known for their inclusion of many, many different spices, the one which perhaps trumps them all is cumin. 
Native to the Irano-Turanian region, cumin is frequently used in curries to add a warm, umami depth to dishes. 
And it's so popular that an estimated 856,000 tons of the stuff is harvested each year! 
On top of this, cumin brings it with it the added bonuses of possessing antioxidants, potentially aiding digestion, and having antimicrobial properties.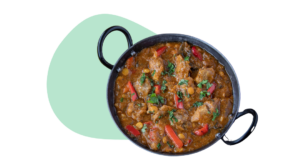 What is the most expensive spice used in curry? 
Saffron, or red gold as it is commonly known, is a spice made from the saffron crocus, aka crocus sativus. 
Coming in at $5,000 (£4,500) per pound of the stuff, it is by a mile the world's most expensive spice, outdoing vanilla by a staggering $4,400 (£4,000). 
This is due to the intensely laborious process of producing the spice which involves hand-picking the flowers and extracting the plant stigmas for dehydration – one kilogram of saffron can be made from 15,000-16,000 flowers.  
From flavouring rice to being a dish's star component, saffron is used frequently in curry despite its eye-watering price tag, adding an earthy, floral extravagance to any meal into which it is added.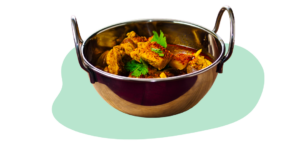 What is curry powder made from? 
Curry powder, much like the dish it's named after, is a British invention, developed to imitate some of the flavours present in Indian cuisine. 
It was first commercially sold in Britain in the late 18th century and is now frequently used as a flavour enhancer in soups, stews and more. 
There are multiple variations of ingredients used to make this spice blend but common mixtures include coriander seeds, bay leaf, chilli powder, cinnamon, garlic powder, ginger, paprika, turmeric, fenugreek, black pepper, clove, salt, cardamom and cumin seeds.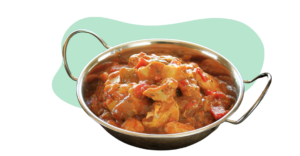 What is the world's oldest curry? 
Amazingly, the world's oldest curry was determined by two archaeologists who discovered remnants of the proto-curry on fragments of pottery in Farmana Khas (Daksh Khera), an archaeological site in the north Indian state, Haryana. 
Using a process called starch grain analysis – a method of identifying plants on a microscopic level – the archaeologists found the remains of aubergine, ginger and turmeric. 
In a piece about the oldest known curry, Tribune India noted: "The Greeks turned it into moussaka, a wholesome casserole complete with meat and potatoes. The French lined a dish with neatly sliced eggplant, zucchini, tomatoes, onions, and potatoes, threw in some garlic, baked it, and called it ratatouille." 
Over 4,000 years later, billions around the world are still gobbling up this ancient stew.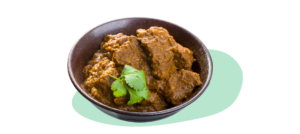 Explore Hey Fresto!'s curries
From aromatic Goan prawn curry to tender lamb dhansak, Hey Fresto!'s range of curries has a meal for every tastebud.
Dip into our menu of spicy, succulent and scrumptious curry dishes by heading to our dedicated page.