There's no doubt that winter is on its way: the clocks have gone back and the cold weather has arrived.
For us, that means comfort food – delicious dishes that warm us up and keep us full for longer. 
As the mercury plummets, our bodies really do start to crave mashed potato and pasta bakes.
Why do we want to eat comfort food when it gets cold? It's partly down to two chemicals in our bodies: serotonin and dopamine, which trigger feelings of happiness when we eat – you may experience it when you eat chocolate. These are the same chemicals we produce when we exercise and are exposed to sunlight, too.
Scientists believe that because these so-called "happiness chemicals" decline in winter, there is a change in the way our gut and brain interact. This results in us getting the happiness rush when we eat our bowls of comfort food.
What's your favourite comfort food?
So, what does comfort food mean to you? It doesn't necessarily mean stodgy meals that leave you feeling heavy and ready for a doze on the sofa; it's something that leaves you with an overall feeling of warmth and cosiness.
We had a vote in the Hey Fresto offices to see which comfort foods we cook regularly in the colder months. 
Here are our favourite 10 winter comfort foods:
Pasta bake
Sunday roast
Chilli con carne
Fish and chips
Bangers and mash
Sponge pudding and custard
Toad in the hole with mash and gravy
Cottage pie
Jam roly-poly and custard

Comfort Food is Nutritious and tasty
It's all well and good enjoying comfort food, but it's so important to make sure that what you eat is nutritionally balanced and isn't just a fat or carb fest that fills you up but leaves you feeling heavy.
If you're busy, a shift worker or find it difficult to prepare balanced meals, you can let us do the hard work for you.
Our frozen ready meals are not only delicious, they are also nutritious. This is because our talented chefs cook and portion all our ready meals before blast freezing them. This locks in the freshness, which means we use fewer preservatives than the chilled or ambient meals that are available in supermarkets.
And because they're available in single servings or for two – and some dishes are also available for four people – they are a great option if you're on your own or need to feed a family.
Love a Great British classic? How about our beef stew with red wine and root vegetables? Packed with tender beef, carrots and swede cooked in a rich red wine gravy flavoured with thyme, rosemary and bay leaf – it's the perfect dinner on a cold night. Serve with your favourite bread to mop up the juices, or add a side dish.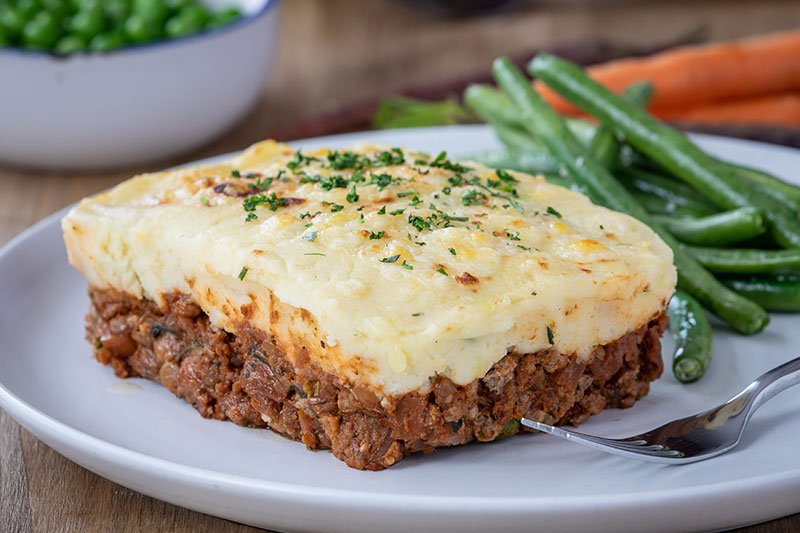 You can't beat a cottage pie and our family recipe features richly flavoured beef mince with garden peas and this is topped with creamy mashed potato that has warming horseradish through it, topped with chives. 
Lentils always hit the spot when it comes to comfort food. They're a healthy source of protein and complex carbohydrates, and are also low in fat, so whether or not you are vegetarian, they are a great ingredient to choose. Our spinach and lentil pie with kale mash is packed with flavour and is also suitable for vegans (but we defy any meat eater not to scrape their plate clean!).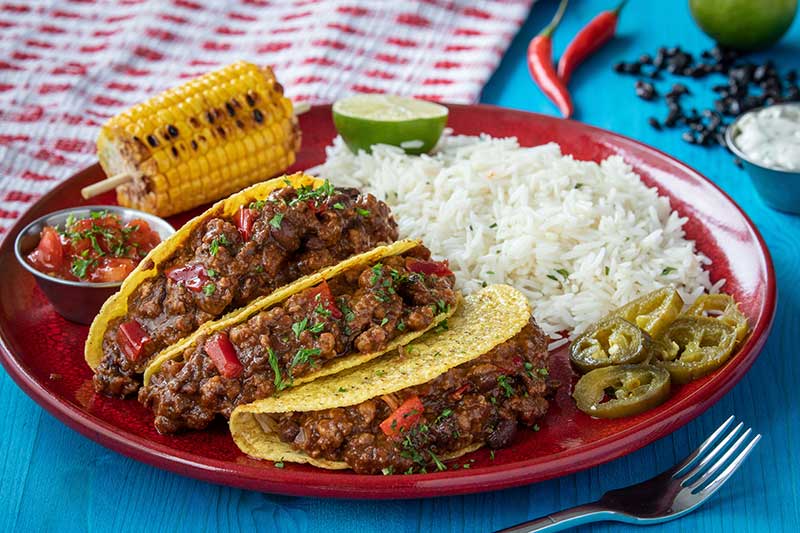 Chilli con carne is another comfort food classic in our ready meal collection. Our chefs have created an utterly mouth-watering dish of smoky, slow-cooked beef chilli with black beans that have been simmered in a rich sauce with tomato, cumin and cocoa powder (don't worry, the cocoa doesn't make it taste chocolatey; it just adds an incredible richness and depth of flavour). Add rice and you have a delicious dinner that you would never guess was a ready frozen meal.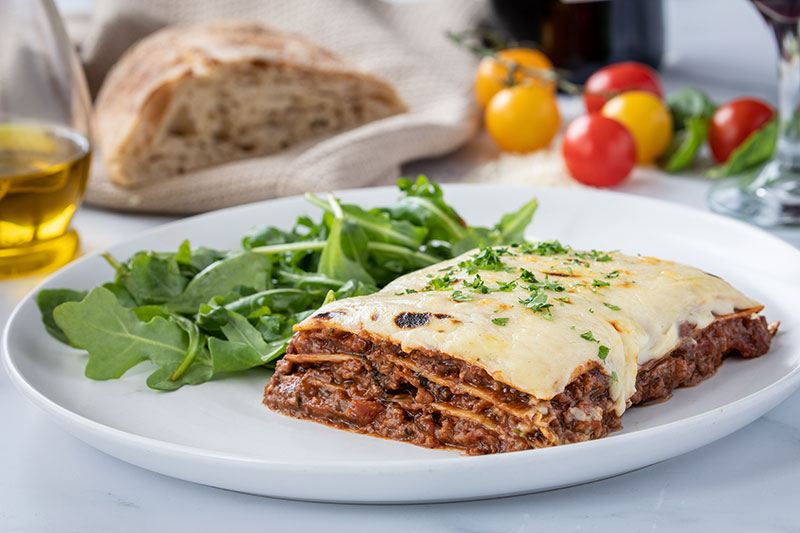 For many, lasagne is the ultimate comfort food: pasta with a nutritious filling, topped with white sauce and cheese and baked until golden. We couldn't agree more! Our chefs have created two flavourful versions: beef lasagne with Chianti and lentil and sage lasagne.
For meat eaters, our beef version is made with a rich ragù, enriched with a classic Italian Chianti. The ragù is layered between sheets of egg pasta and a béchamel sauce and topped with cheese – splendido! 
For those who prefer a meat-free version, our lentil and sage dish is ideal – it's also suitable for vegans. The lentils are cooked in a rich red wine sauce with sage, rosemary and thyme before being layered between egg-free lasagne sheets and finished with a vegan béchamel sauce and parsley and sage crumb.
Get your winter menus sorted
All of our frozen ready meals are delivered and can be stored until you are ready for them – simply pop in the oven or microwave, according to the instructions, and you'll be enjoying a delicious, nutritious meal in just a few minutes without any hassle.
You can order individual portions and some of our dishes are available for two or four people, meaning you can feed family and friends quickly and easily.
If you have any questions about any of our delicious ready meals, our friendly team will only be too happy to help and advise you.
Enjoy some downtime this festive season with our healthy, frozen meals.